Sample Balance Sheet
Most accounting balance sheets classify a company's assets and liabilities into distinctive groupings such as Current Assets; Property, Plant, and Equipment; Current Liabilities; etc. These classifications make the balance sheet more useful. The following balance sheet example is a classified balance sheet.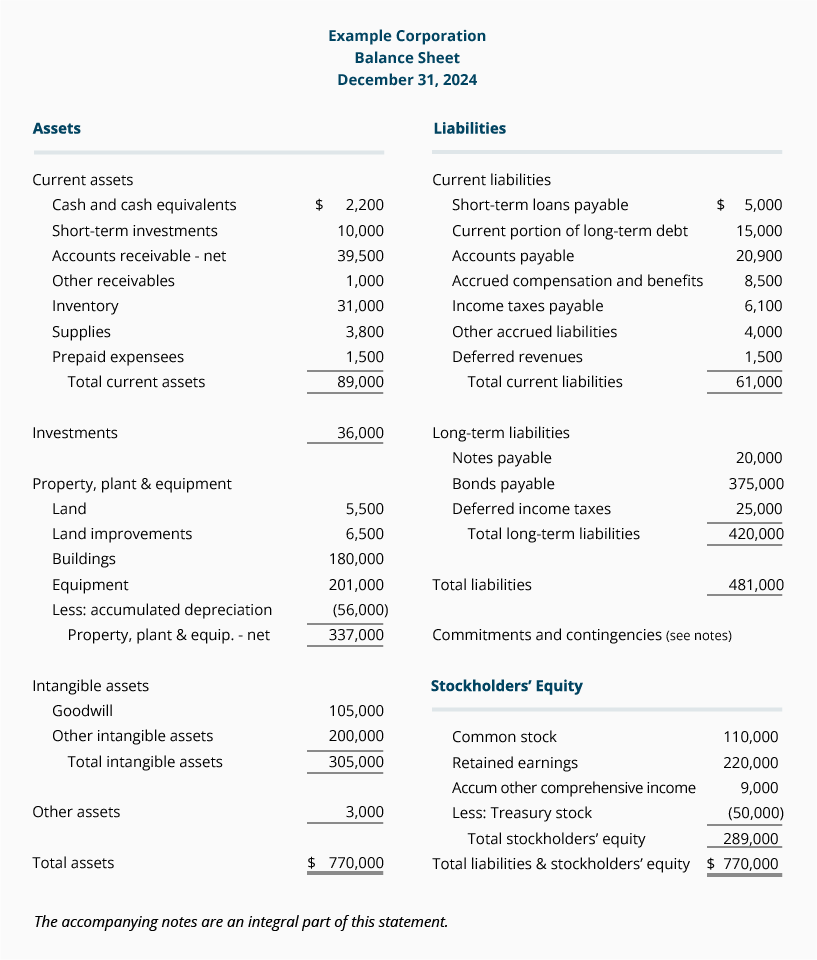 Download More Sample Balance Sheets
Whether you are a business person or student of business, our Master Set of 87 Business Forms will assist you in preparing financial statements, financial ratios, break-even calculations, depreciation, standard cost variances, and much, much more.
Notes To Financial Statements
The notes (or footnotes) to the balance sheet and to the other financial statements are considered to be part of the financial statements. The notes inform the readers about such things as significant accounting policies, commitments made by the company, and potential liabilities and potential losses. The notes contain information that is critical to properly understanding and analyzing a company's financial statements.
It is common for the notes to the financial statements to be 10-20 pages in length. Go to the website for a company whose stock is publicly traded and locate its annual report. Review the notes near the end of the annual report.
Financial Ratios
A number of important financial ratios and statistics are generated by using amounts that are taken from the balance sheet. For an illustration of some of these computations see our Explanation of Financial Ratios.
Take Our Practice Quiz
We recommend that you now take our free Practice Quiz for this topic so that you can...
See what you know
See what you don't know
Deepen your understanding
Improve your retention
Note: You can receive instant access to our PRO materials (visual tutorials, flashcards, quick tests, quick tests with coaching, cheat sheets, video seminars, bookkeeping and managerial guides, business forms, printable PDF files, and progress tracking) when you join AccountingCoach PRO.
Please Note...
You should consider our materials to be an introduction to selected accounting and bookkeeping topics, and realize that some complexities (including differences between financial statement reporting and income tax reporting) are not presented. Therefore, always consult with accounting and tax professionals for assistance with your specific circumstances.